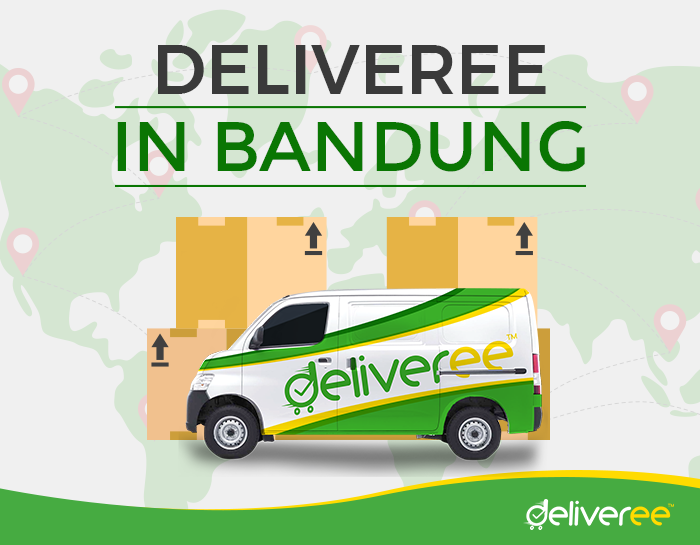 Bandung is a beautiful and busy place that lies at the capital of West Java Province. It boasts of picturesque landscapes, fertile mountains, and prestigious universities. As Bandung is a cradle of art, culture, business, and agriculture, Deliveree sees it as a potential area in need of reliable and revolutionary logistics service provider.
A Better Bandung
Bandung possesses a town structure and industrial qualities same as Jakarta's. With Bandung's budding economical and industrial growth, it might soon face the logistics challenges Jakarta have when it comes to transporting goods. Considering this possibility, Deliveree started operation in Bandung last April 2016. The on-demand delivery app allows Bandung locals to send items on the same day, and has been helping different customers—from regular individuals to small business entrepreneurs—in delivering packages at a very affordable price.
With its user-friendly mobile and web app, and ideal logistics management, Deliveree aims to make consumer and business life in Bandung easier and better, expanding its goal in revolutionizing the logistics industry in the country.
Convenient Courier
As a commercialized area, Bandung is a busy place full of busy people. Some of these people need packages delivered but have no time to drop the parcels or boxes off to courier service centers and go through all the process. With the Deliveree app's door-to-door feature, customers can have their packages picked up at their homes or wherever they currently are. No need to go to courier service centers—simply send packages through the Deliveree application available both on desktop and mobile. The packages will also be delivered right on the recipient's doorstep so he wouldn't need to pick up the parcel from the local post office. Deliveree customers can send and receive items without experiencing the hassle of old and traditional logistics delivery services.
Boosting Businesses
As Bandung is almost like Jakarta and as the capital of West Java Province, it is surely filled with commercialism and small to medium enterprises. More often than not, small enterprises like online shops and home-based businesses managed only by one to two persons do not have their own logistics system. Fortunately, Deliveree offers Business Program, a program especially designed for small to medium enterprises which need third-party logistics partners. With Business Program, Bandung entrepreneurs can send business items to their consumers at a reasonable price. Deliveree also provides an effective logistics management so Business Program customers do not need to worry too much about the transportation of their products and goods.
Customers can also customize Deliveree's Business Program plan according to their business needs by selecting only the specific service features they want, helping businesses save up to 30% of logistics expenses.
Taming the Traffic
Populated and commercialized, Bandung is no exception to heavy traffic, traffic jams, and congested roads during rush hours. Deliveree's courier services seek to remedy—or at least lessen—the traffic congestion in Bandung by incorporating delivery automobiles smaller than trucks, such as economy cars. Using smaller delivery automobiles reduces the road space trucks usually occupy, so more spaces could be available for other automobiles along the roads of Bandung.
As Indonesia implements truck bans, using non-truck automobiles like economy cars, vans, and pickups in delivery improves the speed of transporting packages since non-truck Deliveree automobiles can travel during track ban hours. Also, non-truck Deliveree automobiles allow delivery driver partners to use narrower routes that trucks cannot pass through, so in case of heavy traffic, non-truck automobiles can find other routes toward the package's destination.
For more than a year, the Deliveree app and its useful features has been contributing to the improvement of the quality of everyday busy life, business logistics system, and traffic flow in the beautiful city of Bandung. In the long run, Deliveree aims to improve the economy of other cities and provinces in Indonesia and create a country that has a very effective logistics industry.