Partial load service allows you to deliver parcels and loads with no weight and size limitation on our application from Bangkok Metro to any location nationwide within 1-3 days. Through our advanced technology, your loads will be optimized and transported in shared vehicles along with other customers' loads in the same route. This less-than-truckload (LTL) service offers an affordable and convenient way to send your goods.
Book Partial Load Service in 4 Steps
Partial load service can be booked on Deliveree's mobile and web application everyday 24/7. Our drivers will pick up your goods the next day.
1. Select "Partial Load" then select your goods type (box, crate, pallet, drum, or sack), pickup date and input the pickup and delivery addresses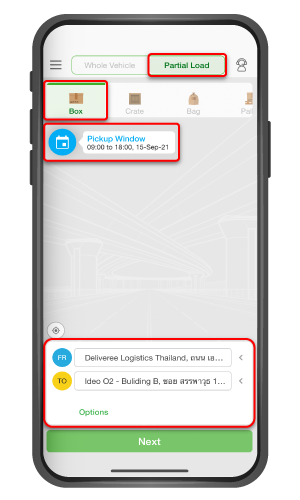 2. Input goods amount, size and weight. Another item can be added by clicking the add button.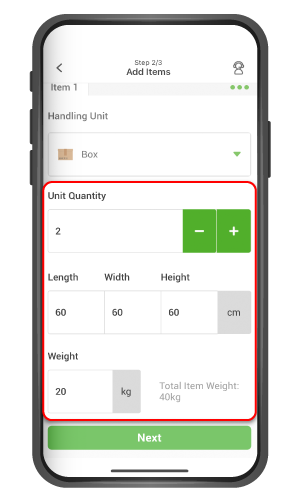 3. ​Input contact name and phone number, and select who's responsible for payment
4. Review booking details and price then click "Confirm Booking"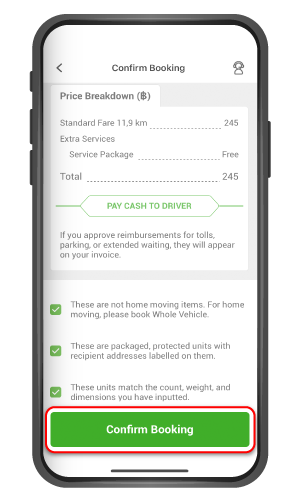 You will be assigned a vehicle within 1 day before the pickup date and the driver will call to confirm the pickup time with you directly before going to the pickup location.
Your item will be delivered within 3 days after pickup. If you require a faster delivery time, you can opt to use our on-demand whole vehicle service, which supports immediate pickup and delivery.  
Packing and Packaging
Before the pickup time, please have your goods prepared by putting it in an appropriate packaging and placing a label outside to indicate recipient's name, address and contact information.
Affordable Delivery with Partial Load Service
To help you save your delivery cost, we used advanced technology to co-load your goods with the goods of other customers on a similar route. By combining goods together into one vehicle, we maximize the utilization of cargo space which reduces shipping cost. The partial load price is calculated based on the goods size, weight and distance between the pickup and delivery locations. Price start at only ฿90, get instant quote here.
Deliver Bulky Goods Nationwide
The partial load service allows you to deliver goods of 5 kg and more from Bangkok Metro to every province in Thailand. The pickup areas in Bangkok Metro are as follows.
Bangkok 

Nakhon Pathom

Nonthaburi

Pathum Thani

Samut Prakan

Samut Sakhon
Delivery Type that Best Fits Partial Load Service
You can use the partial load service to send any type of goods. The service is especially suitable for these deliveries:
Medium to large sized parcel 

Heavy parcel

Parcel that requires door-to-door delivery

Parcel with flexible delivery schedule
Full Service for Partial Load Delivery
When using the partial load service, you can expect a full Deliveree experience at the most affordable price. Your app will provide you with live tracking, status updates, ETA updates, driver chat, CS chat, and notes/photos/signatures for your delivery.
In addition, as your goods will be transported directly to your recipients without a transfer through the warehouse or central sorting facility, you can rest assured that your goods will be handled carefully and damage occurrence is minimized. All deliveries receive a standard warranty coverage free of charge (4,000 baht for regular bookings and 750,000 baht for business program bookings). 
You can start using our partial load service today! For further inquiries, please contact our Customer Service agents at 02-105-4400, Live Chat or email us at support.th@deliveree.com, everyday from 5:00 AM to 10:00 PM.