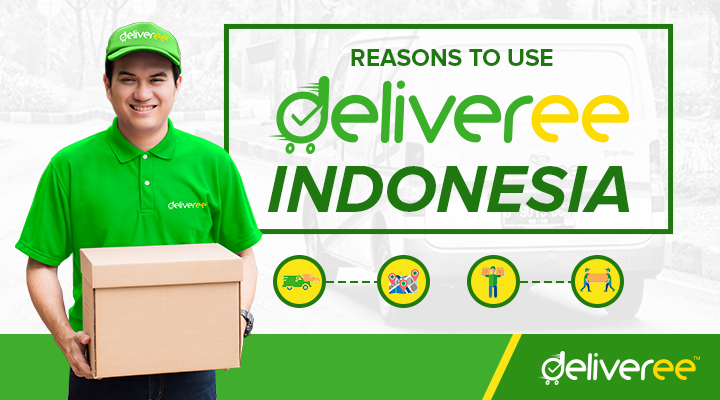 Indonesia has many logistics service providers operating across the whole country but not all courier services are the same, and that is why Deliveree Indonesia stands out—we don't just offer a plain delivery service, but we also aim to revolutionize the logistics industry to improve the country's economy and lifestyle. Because of this mission and vision, our services extend beyond delivering items. And so, clients may find a lot of reasons to use our Deliveree app for their delivery needs. Below are a few of them.
Easy-to-use app
Our logistics support app is available both on web and on mobile devices so clients can use it anytime and anywhere as long as they have sufficient internet connection. Our app is so easy to use that anyone can utilize it just by following the booking steps from selecting the pickup and drop-off to selecting the services and vehicle anyone needs. No need to leave the house, or do a lot of paper work. Your packages will be delivered to the destination with a few taps and clicks.
Accepts same-day delivery
Another reason many people use our services is because clients can send items on the same day at a low cost. Unlike other courier service providers, we don't give clients additional charges for same-day deliveries as our app and services are designed to give on-demand delivery services.
Safe and secure
With our Track and Trace app feature, Deliveree clients are guaranteed that their packages are safe and secure. The Track and Trace app feature allows package senders to monitor in real time the whereabouts of the Deliveree vehicles carrying the packages they sent. Through Global Positioning System or GPS, clients can see where the vehicles are going, and they are immediately informed once the packages have reached their destinations.
Highly-trained drivers
The Deliveree company is adamant in giving its clients the best service possible. This is why our delivery driver partners are highly-trained not just in driving vehicles but also with communicating and assisting our clients. Deliveree drivers are always presentable and polite when interacting with customers.
Affordable services
Using Deliveree logistics support app allows package senders to customize the precise delivery services they want and need. By choosing the type of vehicle, distance covered, number of stopovers, and even the extra or special services that they only need, clients save more money.
There are other reasons clients prefer Deliveree Indonesia over other logistics service provider. To find out these other reasons, send us stuff which need to be delivered and we will give you the quality delivery service you have been waiting for!