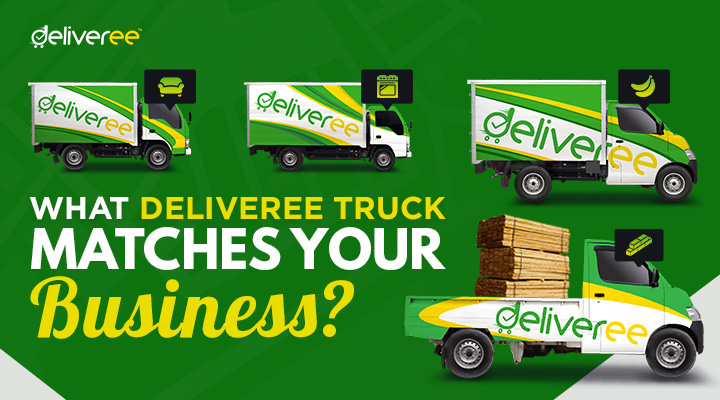 Discover which Deliveree truck is the right one for your goods, services, and budget! Our wide range of delivery automobile choices can cater to different business needs, making our logistics service very flexible. Below is a list of our Deliveree truck choices and the types of businesses we recommend them for.
Pickup Truck
Because pickup trucks are open vehicles, it is recommended for goods that cannot be constricted in small and tight places during transportation. Deliveree's pickup truck for rent can carry items as heavy as 600 kilograms. It is recommended for transporting construction materials like lumber and blocks, as well as landscaping materials like potted trees and rolls of grass carpets. If your business is a hardware store or involves yard work services, we recommend using Deliveree's pickup trucks.
Small Box Truck
Our small box truck, commonly known as Deliveree's small box, is a more compact type of closed truck. It can carry up to 800 kilograms of goods. Due to its metal box container, a small box truck can protect perishable goods, unlike the pickup truck. It is suitable for transporting an average number of fruits, vegetables, root crops, and frozen goods. If your business is transporting or selling these kinds of goods, we recommend choosing Deliveree's small box truck.
Single-Axle Truck/Engkle Box Truck
For businesses that sell home and office furniture and appliances, we recommend using Deliveree's engkle truck or single-axle truck for rent. This delivery truck type can accommodate up to 2,000 kilograms of furniture and appliances and has an available space of 7 Meters Cubic.
Double-Axle Truck/Colt Diesel Double
For building materials, appliances, and furniture that are too big for pickup trucks, small box trucks, and Engkle Box, Deliveree has a solution for that. Deliveree's double-axle truck, also known as double-engkel truck, is much bigger than the single-axle truck and it can carry a maximum weight of 3,200 kilograms.
Does your business need a third-party logistics partner? Contact us today so we can provide you with the perfect Deliveree engkle truck that fits your products and services!