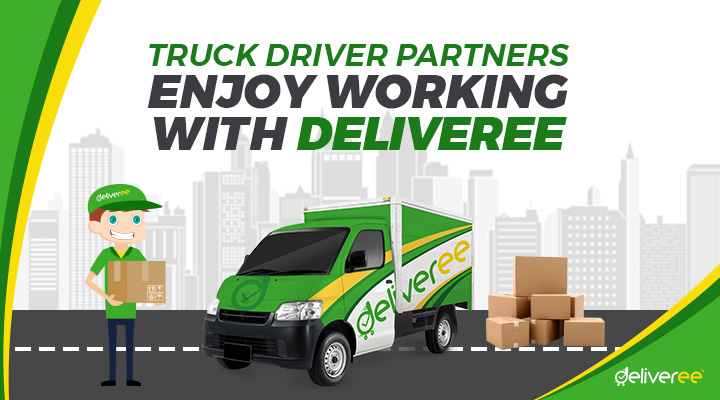 Deliveree is not just a logistics service provider. It is an employee-friendly company that ensures the well-being of its office staff and delivery driver partners as much as it values its customers. Below are testimonials from truck driver partners who shared how much they enjoyed working with Deliveree
Being a driver partner is fun
"It's fun and nice," – Iqbal, Deliveree driver partner
Iqbal, a delivery driver partner for a Deliveree axle truck for rent, found out about the logistics company from using the Deliveree app. After that, he decided to become a Deliveree driver partner and did not regret doing so. As told by Iqbal, working at Deliveree is fun and nice, which would mean that being a Deliveree driver partner is not all about working until you are too tired and stressed out, but also about having a great time while doing your job. Iqbal even hopes that he and his fellow driver partners would get more orders in the future.  "I suggest for Deliveree to create more promos or [be] in cooperation with freight service companies so the driver will get more orders," Iqbal said.
Being a driver partner gives more family time
"I am very satisfied working with Deliveree because I can have more time for my family, unlike if I work as an office worker," – Willys, Deliveree driver partner
Willys is a family man who discovered the opportunity to work as a Deliveree driver partner with the help of a close friend. He happily shared how there have been significant changes in his life ever since he joined Deliveree. He is really delighted with the fact that Deliveree driver partners are able to manage their own time by having the right to accept and decline delivery service requests depending on their preferred schedule.
Many driver partners can earn income by performing Deliveree courier services across Jakarta without having to neglect their spouses and children. As a husband and a father, Willys is really glad about having this advantage as a Deliveree driver partner. He extends his satisfaction at work by wishing Deliveree all the best in the future.  "Success to Deliveree Indonesia and to all Deliveree staff who are always helping me in the field!" Willys added.
Being a driver partner provides better business foundation
"I can have a solid business and a better business foundation," – Leonas, Deliveree driver partner
"Deliveree is more organized in handling the customers; the order is measurable; fair system; and for private business is more promising for the long term," Leonas said, expressing his content as a Deliveree driver partner. He even encouraged the company to expand Deliveree's reach as a third-party logistics partner. "I think Deliveree should be more expansive in serving the huge customer; so it will bring a positive image to the whole society," Leonas furthered.
If you are interested about applying as a Deliveree driver partner, you can check out our Deliveree driver applicant qualifications here. If you think that you are ready to join us, you can register as a Deliveree driver partner at our website.