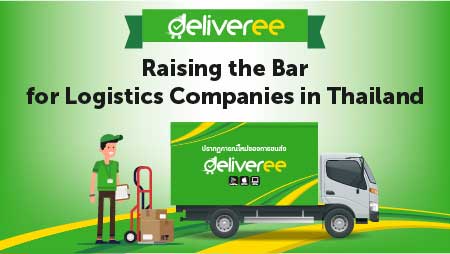 Without tooting our own horn, Deliveree is fast becoming the most reputable and reliable logistics company in Thailand. But why is that? Simply put, we have been raising the bar for logistics companies all over Thailand, bringing about a positive change across the board. By offering an exceptional level of customer care, coupled with a fast and efficient service; other logistics companies are having to raise their game. It's a win-win across the board, particularly for the e-commerce industry in Thailand and the consumer.
Being an emerging country with a bustling economy, Thailand has had its fair share of teething problems. However, we have overcome these hurdles and are fast becoming a global contender. Certainly, we have a long way to go, but something as simple as streamlining the way that packages are delivered from point A to point B has been a significant improvement.
So, what is it about the way that we operate which has so effectively shaken the logistics industry in Thailand?
1. Same Day Delivery
Same day delivery is now the new delivery standard in e-commerce, and we have the technology to thank for that. Our state-of-the-art Deliveree application allows us to locate the closest drivers for our customers, ranging from motorcycle to 6-wheel truck in order to transport their goods to its location within 1 hour in Bangkok. Given that Bangkok has some of the busiest and most congested roads in the world, that is a gargantuan achievement.
2. Delivery Driver Accountability via Real-Time Tracking
Ever since the implementation of GPS tracking for delivery drivers, both the speed and standard of service has skyrocketed. This is purely and simply down to the fact that all delivery drivers are clearly accountable with irrefutable evidence of their movements.
Now, not only do Deliveree provide a real-time tracking link that is sent to every drop-off location receiver to reassure that their goods are on their way, but we also provide the most experienced, well-trained and dedicated drivers. Drivers that are familiar with the local area that they will be operating in and that share our inclination toward exceptional customer care.
3. Professional and Efficient Drivers
Our business model is built on efficiency and large scale of professional drivers in the network, which means that our drivers are under far less pressure to deliver as many packages as possible within a limited time frame. In addition to that, we have a thorough recruitment and training process enabling us to onboard only the finest, friendliest and most professional drivers. This means that all of our deliveries come with an impeccable level of customer care. So, for e-commerce companies who are looking for their products to be delivered with professionalism, speed and high delivery success rate,  you needn't look any further.
Summary
With the implementation of Deliveree's application and the flexibility that we offer on our delivery services, our competitors have really had to step up their game. Our mission statement is always to provide the highest standard of service. The fact that we have achieved that end, whilst bolstering the logistics industry in Thailand is something that we take great pride in.
Download Deliveree and try booking our vehicles today via Google Play Store, Apple App Store or Web App. For inquiries about Deliveree's service or pricing, contact 02-105-4400, Live Chat or email support.th@deliveree.com every day from 05:00 AM to midnight.
For more information, please visit www.deliveree.com/th/en