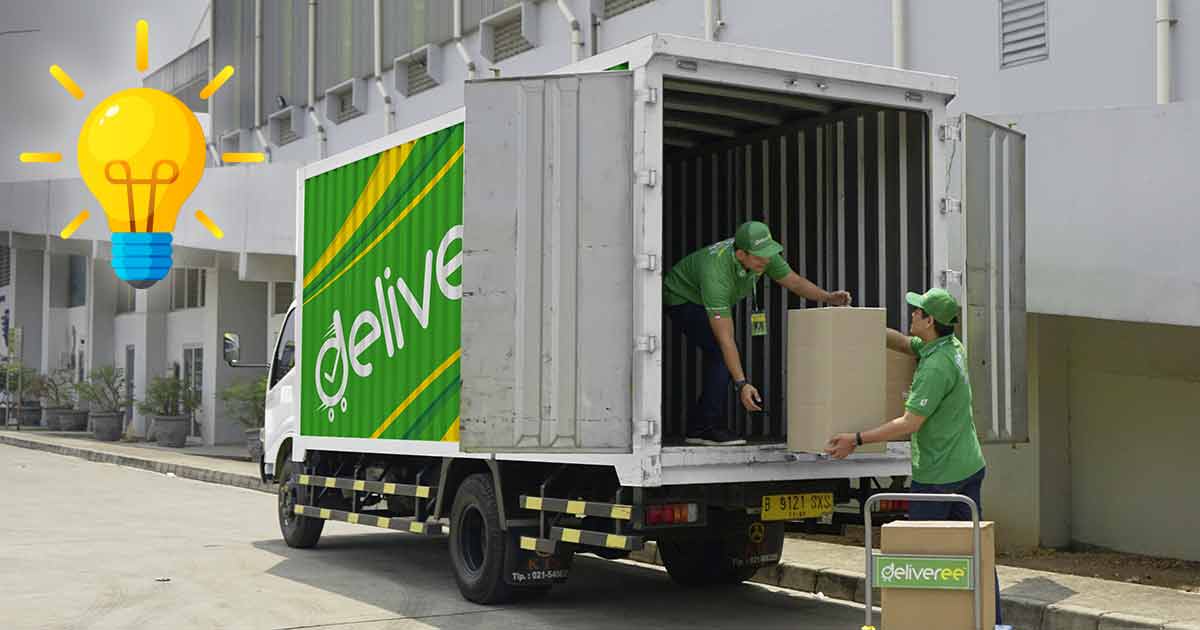 "Our FTL trucking service is now the most widely used road cargo and goods solution by businesses across Indonesia whether you are a big business, logistics company, or SME." – Tom Kim, Deliveree CEO
Welcome to the revolution! If you're a big business, 3PL, or small to medium business, we're pretty sure our acclaimed FTL cargo services will be the ultimate match for your business needs at our incredible everyday low prices. We have Indonesia's largest fleet, widest truck and vehicle selection, and legendary service. All this is underwritten by technology that enables a flexible pricing model so you can tailor your spending. Your business and financial bottom line will thank you for trusting your ground transportation and cargo services with Deliveree!
Armada
Kapasitas
Ukuran

Tronton Box

15.000 kg

L: 9.6 m

W: 2.4 m

H: 2.2 m

Fuso Berat

8.000 kg

L: 5.7 m

W: 2.3 m

H: 2.2 m

Fuso Ringan

5.000 kg

L: 5.0 m

W: 2.1 m

H: 2.0 m

Double Engkel - CDD (Box atau Bak)

4.000 kg

L: 4.2 m

W: 2.0 m

H: 1.7 m

Engkel Box atau Engkel Bak

2.200 kg

L: 3.1 m

W: 1.7 m

H: 1.7 m

Box Kecil

800 kg

L: 2.4 m

W: 1.56 m

H: 1.2 m

Pickup

800 kg

L: 2.0 m

W: 1.56 m

H: 1.2 m

Van

720 kg

L: 2.1 m

W: 1.56 m

H: 1.45 m

Ekonomi

150 kg

L: 1.0 m

W: 0.9 m

H: 0.75 m
So let's get down to business and answer some of the most commonly asked questions.
A. What trucks and vehicles do you have available?
We have the ultimate trucking full spectrum: Tronton, Fuso, Double Engkel, Engkel, Small Box, Small Pickup, Cargo Van, and even Economy Cars. For a full listing of our trucking selection along with maximum cargo dimensions and weights, visit the Fleet inventory section of our website. We have also included a table in this blog with key information by vehicle.
B. What areas do you service?
At this moment, we cover all of Java, Bali, Lombok, and many parts of Sumatra. We expect to be expanding to all of Indonesia in the near future. Note than some services and vehicles may not be available in all our service areas. Feel free to try our very convenient service address checker that will confirm if we cover your address.
C. What are your everyday low prices?
We thought you would never ask. We love talking and sharing our everyday low prices. Our team works extremely hard to bring you the same incredible prices paid by big companies who secretly negotiate discounts with their logistics providers. Our everyday low prices on our platform match with those very same low prices. Finally you and your business have access to these secretive and preferential prices thanks to Deliveree's ultimate platform. To get a price, use our popular Price Wizard which takes just 30 seconds to get a quote based on the vehicle of your choice and your specific route.
D. What services do I get when I book?
Deliveree's standard service package generally exceeds what a normal logistics company would offer. Outs is all-inclusive of most of the things you'll need to complete a standard cargo or goods delivery. They include:
Driver

Fuel

Loading at pickup within 15 meters from vehicle *

Unloading at destination within 15 meters from vehicle *

Award winning 24/7 CS support

Full access to our acclaimed mobile and web applications
To save you money on base prices, we offer some customizable extra services that cost extra. Having these extra services separate allows you to pick and choose what you really need so you don't pay for anything you don't really need. As usual, our prices on these extras as very reasonable and competitively priced. To name a few:
Additional destinations after the first

Extra helpers

Cash on delivery (COD)

Document return 

Extra insurance
E. How do I get started?
Finally, we hope that you're convinced to try our game changing logistics company and cargo services. Get started by doing any of the below:
Downloading Deliveree from Google Play

Downloading Deliveree from Apple Apps Store

Launching our web app from any web browser
We hope you enjoyed this fast introduction and tutorial about Deliveree's revolutionary benefits. There's a great article that we recommend you read about the state of the trucking logistics industry.