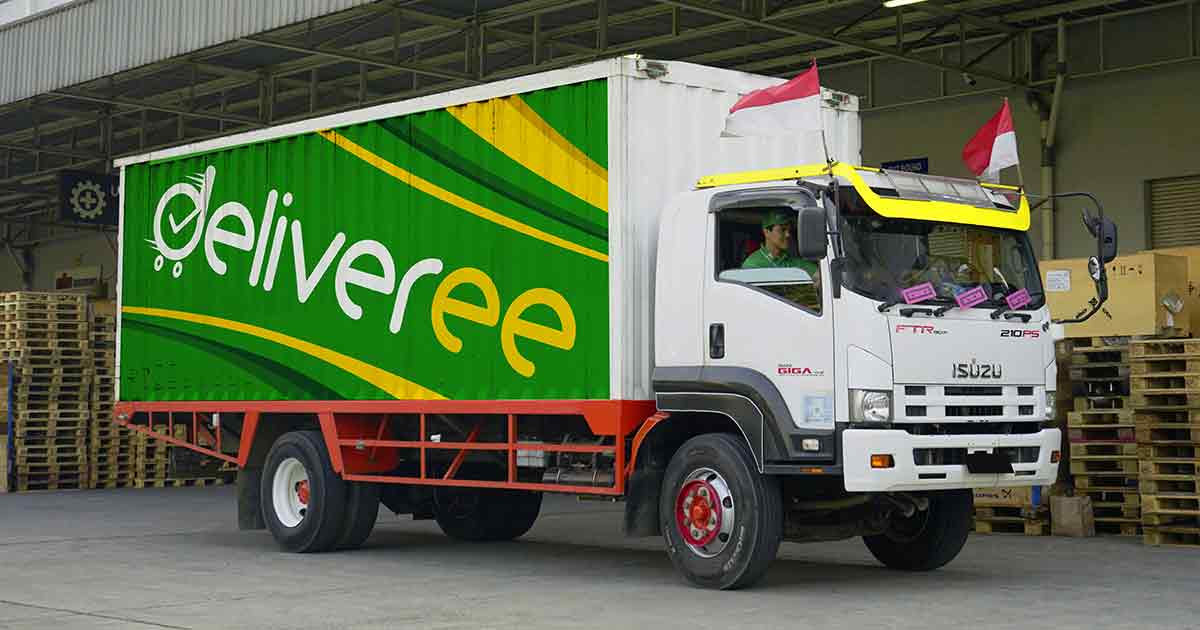 "Deliveree recently reached 1 million clients utilizing its road freight and cargo logistics services. It's our magic formula comprised of Indonesia's largest truck fleet combined with flexible booking options, same day and next day booking lead times, and of course our prices which offer superb value for money." – Tom Kim, Deliveree CEO
Indonesia's leading road cargo and freight logistics company is expanding. With current services covering most of Java, Bali, and Lombok, Deliveree is looking to Sumatra for growth. Already Deliveree has the largest fleet in the country with an estimated 20,000 to 25,000 trucks across the country and growing.
What is driving their growth and success? As their CEO explains, it's a powerful combination of huge truck selection, wide-coverage, great prices, and perhaps most importantly flexibility in the way businesses can book, manage, and pay. Let's take a moment to expand further on this latter point. 
Deliveree acts as a spot and on-demand booking platform whereby customers can book a wide range of trucks on a same-day basis and up to two weeks in advance. Businesses only book what they need and pay for what they book. This flexible and scalable trucking solution allows businesses to manage their trucking costs with very little lost overhead or inefficiency. While many platforms are plagued with poor fulfillment or shoddy service, Deliveree seems to defy the odds with solid service at affordable prices. A quick glance at their Google Playstore rating of 4.8 and Apple Apps Store ratings with a total of 8,519 reviews demonstrates this. We even had a look at their Google My Business listings in Google Maps and their ratings for all four of their offices across Java are very high an average score of 4.8 among 833 reviews.
Let's have a closer look at their fleet choices and characteristics. This is one of the most diverse fleet selections we have seen in the industry. Most road cargo and freight trucking companies specialize in specific kinds of trucks with a focus on either heavy or mid-size trucks. But Deliveree offers the full spectrum starting with their Tronton trucks at 18 tons all the way down to even city cards at half-ton. There are eight truck and vehicle classes in between including Fuso, Double Engkel, Engkel, Small box, Small Pickup, and of course Indonesia's ubiquitous blind vans.
Armada
Kapasitas
Ukuran

Tronton Box

15.000 kg

L: 9.6 m

W: 2.4 m

H: 2.2 m

Fuso Berat

8.000 kg

L: 5.7 m

W: 2.3 m

H: 2.2 m

Fuso Ringan

5.000 kg

L: 5.0 m

W: 2.1 m

H: 2.0 m

Double Engkel - CDD (Box atau Bak)

4.000 kg

L: 4.2 m

W: 2.0 m

H: 1.7 m

Engkel Box atau Engkel Bak

2.200 kg

L: 3.1 m

W: 1.7 m

H: 1.7 m

Box Kecil

800 kg

L: 2.4 m

W: 1.56 m

H: 1.2 m
The most loved product that Deliveree has is Business Program. Deliveree basically can customize your logistic needs and baked it into the all-in price. Not just that, we discover that this cargo logistics company in Indonesia offers you many benefits. Easily accessible freight application, whether it's from Android or Apple devices, and even your desktop, shall you prefer one. Other things that are noticeable from Deliveree is that they cover a full loading and unloading service, and even the more complicated ones like counting the amount of the goods, take pictures of the goods, getting a digital signature as a proof that your goods have safely arrived in the destination. 
The business program that they have is covering the monthly postpay, free insurance up to Rp 1 billion, documents return, customize SOP, custom services, providing safety equipment per your requests, and dedicated fleet that can stand by in your pickup area as scheduled. 
You can find out more about Deliveree and join their other 1 million clients to join their revolution. Seek out their website link that can easily found in Google, their 24hr CS is ready to assist you.
FREQUENTLY ASKED QUESTIONS
Where to find a list of every freight and cargo logistics company in Indonesia?
🚚 There are no current known sources of a comprehensive list of freight and cargo companies operating within Indonesia. We estimate there to be in excess of 100,000 companies operating in this service sector ranging from large multi-modal logistics service providers down to small family-owned trucking companies. Deliveree is Indonesia's leading aggregator who brings together thousands of trucking service providers onto their platform to provide services according to a common high standard at uniform prices that represent the best in industry.
——————–
How to find reviews for a particular freight and cargo logistics company?

🚚 Google My Business listings are presently the market standard for reading reviews of freight and cargo service providers. But these can be easily manipulated and may not always contain the information you're looking for. We also recommend you visit Logisticsbid Magazine online who published reviews and rankings of top players in the industry.