As part of its mission and vision to make Indonesia a better place by enhancing and improving the local logistics industry, the Deliveree logistics company participated in the recent 7th UI Studentpreneur: Reinforcing Entrepreneurs with Solution Ideas organized by and held at Universitas Indonesia, Depok last February 15-17, 2018.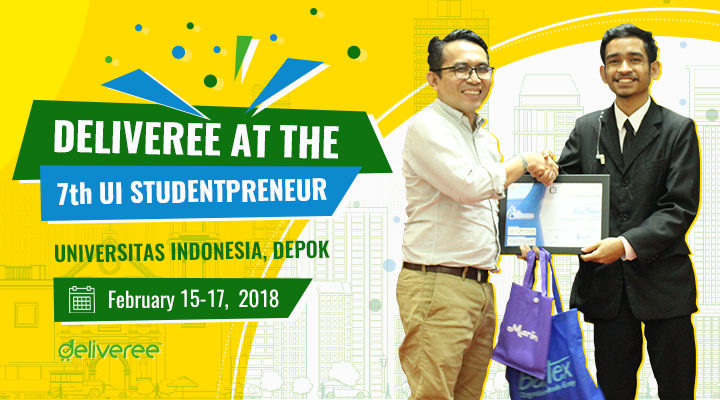 A conduit for aspiring business students to learn more about entrepreneurship from the best mentors and showcase their business ideas, the event was divided into three sub-events, namely, Seminar & Expo, Business Plan Competition, and Young Entrepreneur Summit (YES).
As the grand finale of the event, YES entailed aspiring entrepreneurs personally interacting with Indonesia's most notable entrepreneurs through four sessions which included the Mentoring Session, where Deliveree Indonesia Head of Fleet and Training Reza Pahlevi was one of the mentors who discussed the topic Operation Focusing on Supply Chain Management for app-based companies to business students and young entrepreneurs.
As Deliveree is experienced in handling business logistics for clients enrolled in the Business Program, Pahlevi had no difficulty in making student entrepreneurs understand the importance of efficient Supply Chain Management, using how Deliveree logistics application manages transport of goods as an example. Pahlevi is also very knowledgeable in ecommerce and other new business trends, making him a suitable mentor for the said topic.
Other YES sessions included Focus Group Discussion, where participating young entrepreneurs were given business case studies to solve; Brand Startup Session, where teams had a chance to promote their business ideas to the mentors; and Gala Dinner, where participants and mentors got together to lightly discuss business subjects over dinner.
Over 150 people attended the 7th UI Studentpreneur: Reinforcing Entrepreneurs with Solution Ideas, including business students from different universities across Indonesia, as well as head officers and chief executive officers of top Indonesian ecommerce companies.
For seven years, Universitas Indonesia has been organizing UI Studentpreneur events to help encourage aspiring student entrepreneurs to make their business dreams come true by meeting and interacting with successful business personalities, learning a lot from entrepreneurship seminars, and testing their business skills and knowledge in business plan competitions.
In line with our goal to revolutionize the logistics industry to help with the local economic progress, Deliveree is proud to be part of the 7th UI Studentpreneur: Reinforcing Entrepreneurs with Solution Ideas. We promise to continue improving businesses and lives across our Deliveree service location in Jabodetabek and Bandung through reliable goods delivery services.