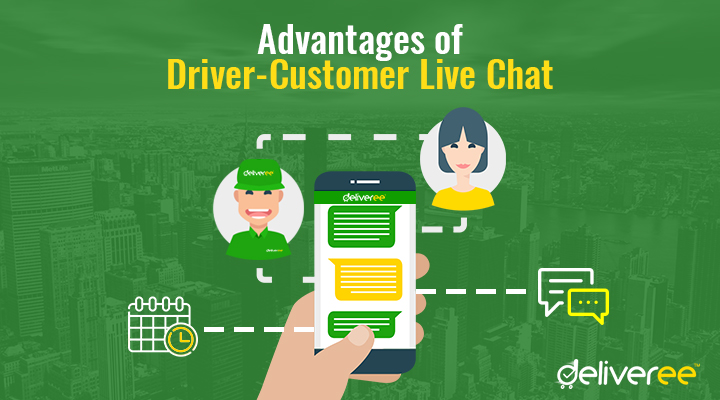 Moving onward and pushing forward in line with the goal to revolutionize the logistics industry across Southeast Asia, Deliveree made a new app feature to improve and to enhance the quality of our courier service to our valued customers. However, this new Deliveree app feature called Driver-Customer Live Chat is more than just an application enhancement. If one looks closely, the new Deliveree app feature has many benefits to offer.
It Saves Times
The greatest change the Driver-Customer Live Chat feature has contributed to delivery application of Deliveree is enabling the delivery driver partner to directly contact the package sender, thus, saving a lot of time. Before, if the customer has any question for the driver partner carrying his package, the customer has to contact the customer service representative first so the customer service representative can then ask the driver. Once the driver answered the customer's question, only then can the customer service forward the answer to the customer. Now, there will be no more waiting for the customer service's call and response—the customer can now directly send a chat message or call the driver for any question and vice versa.
It Prevents Misunderstanding
Communication studies have already proven message relay that involved too many people could affect the meaning of the message. With the new Deliveree Driver-Customer Live Chat feature, misunderstanding could be prevented as there is no room for misinterpretation. Now, there is no person between the driver and the customer that might pass on a misinterpreted message. The message between the driver and customer will be delivered exactly as it is, nothing more and nothing less.
It Provides Better Business Deliveries
The new live chat app feature is also available for Business Program clients as long as they remember updating their Deliveree app. It would be very helpful to both the entrepreneur and the business driver. For one, it decreases the chances of business delivery errors by granting the business owner and the business driver a faster way to communicate. If an unexpected business-related circumstance occurred during the delivery, the Deliveree driver could immediately inform the client about the incident and the client can guide the driver step by step on what to do. With the new live chat app feature, Deliveree is a better logistics partner for entrepreneurs across Jabodetabek.
From saving time to providing a better communication between the Deliveree driver partner and the valued customer, Deliveree's new live chat app feature truly offers additional convenience and functionality to customers. We hope to do more application and service improvements in the future so we could serve our customers even better.