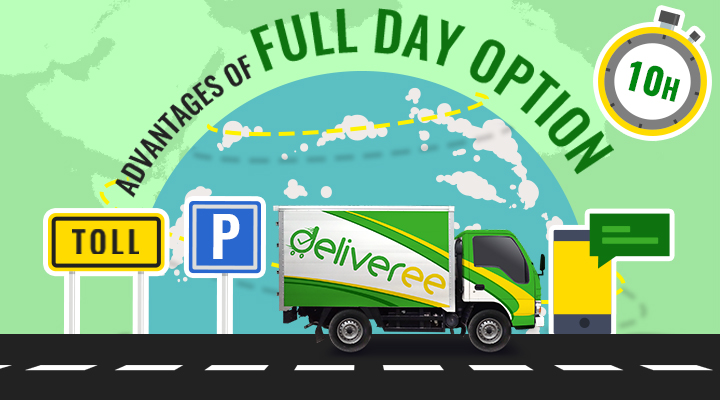 Deliveree customers have always been welcome to use either the ordinary delivery request or the full-day rental option, depending on the courier service they need. More often than not, customers who choose the full-day option are those who need assistance in house-moving, office-moving, catering transport, and delivering more than 10 packages with separate destinations. And they are right to choose the full-day option for those kinds of delivery tasks because the said option offers a lot perks that the ordinary delivery does not have.
10-hour service
If you think that your delivery request might take more than a while to accomplish, choosing the full-day option is most recommended—for 10 whole hours, a Deliveree driver partner and his delivery vehicle will solely be at your service. The 10-hour service feature under the full-day option is one of the reasons why more and more entrepreneurs are choosing Deliveree as their logistics partner.
Unlimited destinations
The full-day option comes with an unlimited destination offer as long as the drop-off points are within our location or Deliveree service area. If you have several package destinations and you think the delivery would cover plenty of mileage, it would be practical for you to choose the full-day option. It could also save you more money as it has a fixed price no matter how many drop-off destinations you have and how many kilometers your booking has to cover.
Free driver assistance
Whether it is the economy car or a Deliveree axle truck for rent you need for your full-day option request, the driver assistance extra service is automatically free of charge. However, if you will be needing an extra helper, his service is free up to Rp50.00 per full day.
Hassle-free toll and parking payments
With our ordinary delivery option, we need to charge our Deliveree customer for any toll and parking fee our delivery driver partners encountered during the transportation of the customers' packages. Meanwhile, our full-day clients no longer need to prepare toll and parking fees as they are already included in the basic tariff for full-day service.
For more inquiries about Deliveree's full-day option, feel free to contact our customer service today!