The Smart Load Planner tool helps businesses manage orders more conveniently and efficiently by bundling orders and creating routing while selecting the best suited vehicle type and most-optimized number of vehicles needed for your deliveries. All customers can utilize the Smart Load Planner free-of-charge on our Web App.
Benefits of the Smart Load Planner
Manage multiple orders with multiple delivery locations

Arrange orders and optimize number of delivery vehicles for the best cost efficiency

Create batch bookings without having to manually book each vehicle

Easy to use on Web App and free of charge
How to Access the Smart Load Planner
Login to your user account on Deliveree's Web App and in the "Batch" menu click "Start" on the Smart Load Planner.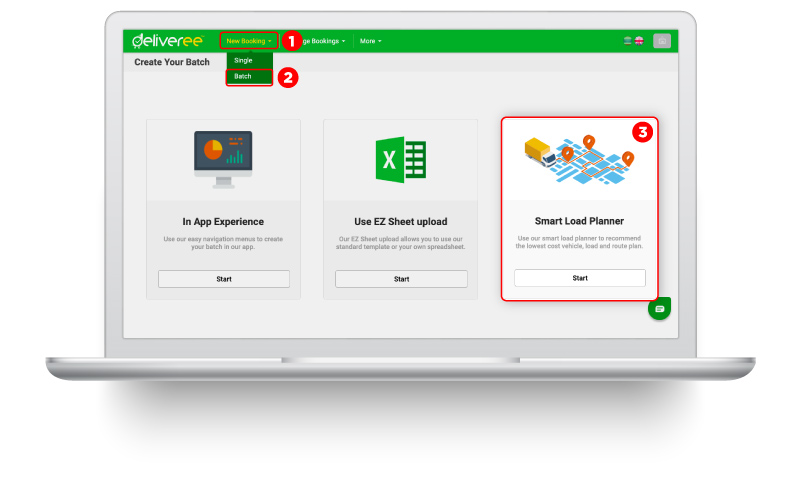 Batch Booking with the Smart Load Planner in 5 Easy Steps
1. Download the load planner template and input order details such as the order number, the goods weight and size, number of pieces per order and drop-off locations. Upload the spreadsheet to the Smart Load Planner, input the pickup location and select the pickup date.
2. Map the spreadsheet columns with Deliveree's required fields and select your vehicle type preferences. 
Consider all vehicles

– the system will use all available vehicle types to optimize your delivery orders.

C

onsider only specific vehicles

– the system will only use your selected vehicles to optimize your delivery orders.
3. Once the spreadsheet is uploaded, your load plan is shown with the list of vehicle bookings, vehicle type, order arrangement and route for each vehicle, and ETA time to reach the final stop in each booking. In this step, you can set the desired time you want the deliveries to be completed and change the vehicle type to a larger vehicle. Then click "Next".
4. In the Validate step, you can review delivery details of each vehicle booking. You can change the preferred time type and add extra service in this step. Then click "Next".
5. Review the booking details and price summary before clicking "Confirm Batch".
Customers can check booking status in the "Ongoing" tab in the "Batch Alert" menu.
Business customers can join Deliveree's Business Program to access services specific to business deliveries such as Document Return (POD), Cash on Delivery (COD), monthly invoice with credit term and goods insurance up to 750,000 Baht. Get more information or apply for Business Program at www.deliveree.com/th/en/logistics-business/