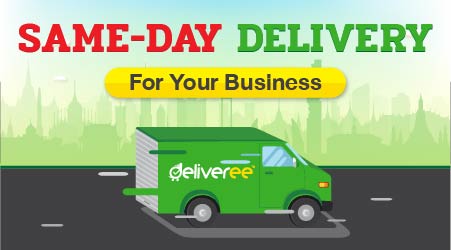 In this post we're going to explore the clear benefits of a same-day delivery courier service for businesses. Logistics in Bangkok hasn't always been the most effective, given the congestion on the roads. However, same-day delivery is something that we pride ourselves in.
If you're an e-commerce business and you want to get ahead of your competitors, then you must switch to a logistics company in Thailand which can offer you same-day delivery. Understandably, this is something which can prove difficult if you've been working with a particular company for a long time and have built up a friendly working relationship. However, if they lack the infrastructure to support your future growth, then it's time to say goodbye.
So, why is it so important to offer same-day delivery?
1. Lower Your Overall Inventory Costs 
By taking advantage of same-day-delivery, you'll be able to significantly reduce the amount of inventory that your business is stock-piling daily. This is due to the fact that you'll be moving goods in and out of your store and warehouse efficiently, allowing you to streamline the sorting process and cut your costs.
2. Provide Your Customers With an Exceptional Service
Depending on a customer's locations, same-day delivery might not always be possible. However, providing the opportunity to upgrade their delivery option is a great way to secure customer loyalty, particularly if you're living in a big capital city such as Bangkok, where you would expect access to same-day delivery when shopping online.
By switching to a logistics company in Bangkok which offers this service, you'll be able to provide your customers with the quality of care that they deserve. If you want to succeed in the future, then you have to keep up with the times. It's as simple as that.
3. Gain a Competitive Edge Over Your Competitors
Understand that same-day delivery is going to be the standard in the e-commerce industry soon enough. So the sooner that you can adjust your business model to incorporate this, the better. You want to gain a competitive edge over your competitors who are behind on this, and to catch up with those who have already embraced it. Following that, you can work towards new and innovative ways to streamline your service.
4. Up Your Margins
The fact is offering same-day delivery is incredibly helpful to many customers and as such they will gladly spend more money to secure it. This means that you can take advantage of the demand and supply them with what they need whilst adding a comfortable slice on top to boost your profits. It's a win-win across the board. Your customers can receive their goods faster while you gain more customers and ultimately boost your profits. 
5. Significantly Reduce the Chance of Packages Being Lost in Transit
Mistakes are made when letters or packages are sat in a warehouse or post office for several days before being moved onto the next point. By working with a same-day delivery logistics company, you won't have to worry about this anymore. The reason is because the package will arrive at its destination hours after the order is being placed, leaving very little room for error.
And we'll go one further than that! By working with Deliveree, you'll have access to an application which will allow you to track your parcels in real-time. If you want to know how it works, follow the link. You can rest assured that the odds of a package getting lost in transit with a Deliveree driver are slim to none! 
6. Get Rid of Your Fleet and Invest Elsewhere
Running a fleet of vehicles and offering a direct delivery service isn't the most cost-effective way to run an e-commerce business anymore, especially given how many reputable and reliable logistics companies there are in Thailand. You can sell your fleet of vehicles and invest your money in other areas such as expanding your product list or focus heavily on marketing your online store. Then you can outsource all deliveries to an established logistics company in Thailand that has the infrastructure to accommodate you.
Why Choosing Deliveree as Your Logistics Company?
The process is simple really. We can work closely with your business in order to find the best possible logistics solutions for you. Here's a quick step-by-step guide on how it works:
Install our FREE Deliveree app (available in Google Play, Apple Store or as a Web Application)

Next, you can select your pickup and destination locations (Add up to 10 per booking with additional fee at only ฿50 per added location)
Following that you will be able to select the most appropriate Deliveree vehicle to carry out your orders, you can also select your timing preferences (anything between 1 hour and 4 weeks in advance)
Once your order has been placed, our Deliveree app will match you with the nearest appropriate driver, with a wealth of information on the driver, and an ETA for your convenience.
You can track your delivery from the moment we pair you with a driver to when your packages arrive safely at their destination.
Rate your driver and get ready to schedule your next delivery!
Our entire business model is built on convenience. Our mission is to make life easier for busy business owners such as yourself. We are confident in the fact that if you choose Deliveree as your logistics partner, you'll be entirely satisfied with your decision.
Not convinced? Why don't you launch the Deliveree Web App or Download Deliveree's application and try booking our vehicles today via Google Play Store or Apple App Store? 
For inquiries about Deliveree's service or pricing, contact 02-105-4400, Live Chat or email support.th@deliveree.com everyday from 05:00 AM to midnight. For more information, please visit www.deliveree.com/th/en