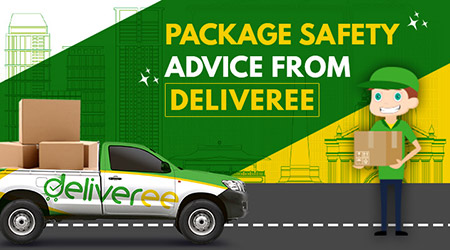 Whether you need a regular up-country delivery or house-moving services, you know you can count on Deliveree Thailand. You can count on us delivering your package on time. You can count on our customer service representatives' capability to answer your questions. You can count on our delivery driver partners to take care of your packages. We also hope that we can count on you in doing your part as package senders, to make sure that your items are packed safely before handing it to us. Below are safety advices you might want to practice.
1. Use Boxes
Boxing packages are very important as they protect the items inside from scratches and breakages alike. Please use new boxes as much as possible because old, wrinkly, damaged, or wet boxes will not do much in protecting your items. If you prefer recycling boxes to avoid expenses, make sure to use boxes that are still sturdy and without major or minor damages like holes and tears. A good box helps Deliveree deliver the package safely
2. Use Labels
Although Deliveree uses a sophisticated delivery app that automatically saves the sender and recipient details into its database, labelling the packages you wish us to transport will not only be useful, but also helpful. It is useful because it prevents package confusion or package mix-up, and it helps in making the transactions faster. When hiring Deliveree services for house-moving, labels also help the package senders keep track of their possessions.
3. Use Bubble Wrap
Bubble wraps are often associated with fragile items only such as glass objects, porcelain, china, potteries, and other objects that are prone to breakage. Still, we advise our valued customers to use bubble wrap for objects that do not look fragile. This is because bubble wraps can also protect non-fragile objects from scratches during shipping. If there are no bubble wraps immediately available to wrap non-fragile objects with, package senders can use recycled papers as alternative.
4. Use Styrofoam
Styrofoam materials like Styrofoam balls and Styrofoam peanuts are known for keeping items safe from road bumps. Styrofoam materials are used to fill box spaces to keep the contents snug and safe from sudden transportation movement. We recommend using Styrofoam materials so Deliveree could deliver the product unscathed.
5. Use Tapes
Putting packages in sturdy boxes, wrapping fragile items in bubble wrap, and stuffing extra box spaces with Styrofoam materials are not enough. Of course, the packages you wish to send using our services must be sealed. Sealing boxes and parcels with strong adhesive tapes keeps the contents from spilling out and enduring damage. We advise to choose high-quality packing tapes that do not easily lose adhesiveness.
6. Use a Checklist
How can a checklist help in packing? A checklist could help you monitor the contents of your packages if all of them are already packed and ready for take-off. Checklists are especially useful in house-moving. With a checklist, clients can track the boxes and household items that were loaded into Deliveree's cheap vehicle for delivery for house-moving services.
7. Use Organizers
There are many types of organizers. There are organizers in the form of notebook planners, there are drawer organizers, and of course, makeshift organizers to keep package contents separated. Cut-out cardboards can serve as package dividers to prevent the mixed contents from cluttering within the box. Organizers also help your recipients unbox your packages easily.
8. Use Plastic Envelopes
Not all packages require plastic envelopes or plastic sleeves to keep them safe. Most types of packages that we recommend senders to slide inside plastic envelopes or sleeves are important documents that must not get wet. Although we can promise that we will do everything to protect our clients' packages, we will not be able to protect documents from unexpected circumstances like sudden rain and accidental spill of liquids caused by other people.
We know that Deliveree Thailand promised to protect your packages, but there will be incidents that our company and our delivery driver partners will not be able to control. This is why we advise all our valued clients to take precautions on their part, so keeping the packages safe from damages will be more possible.