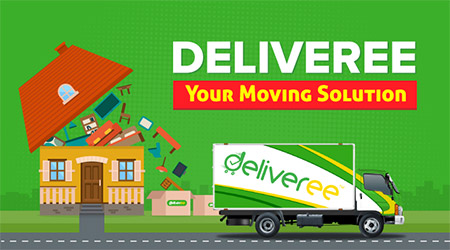 Moving out, as you will know all too well, is a terribly stressful experience. Of course, first of all you have the stress of finding a new place to live, finding the best deals, selling up your property, having it prepared for the next family, making sure that you're moving to the right place with the appropriate amenities for you and yours, convincing your children that it's for the best and so on. – The list goes on and it can become an incredibly exhausting experience. That is why we take great pride in providing our clients with a simple and flexible moving service at the touch of a button.
With Deliveree, you can cut out all of the nonsense and enjoy a simple and straightforward moving procedure. In fact, it can be arranged using our free and easy mobile app, at the touch of a button! You can rest assured that absolutely everything will be in hand, so that you can focus your time and effort on other areas that require your attention.
Allow Deliveree to lighten the load! All that being said, it is important to note that we do not offer a full relocation service. So, all of your items must be packed and boxed up, waiting to be loaded when the driver arrives. The advantage of you using this service, is the fact that we can have a vehicle for you within the hour. This level of speed is not offered by traditional moving companies, so if you would like your goods moved quickly and effectively, you know who to call.
The 4 Main Benefits of Using a Moving Company to Assist You Many people try to handle a house-move on their own, borrowing a friend's van or hiring a vehicle themselves. Ignore all of that nonsense and afford yourself the simplest and easiest solution for moving to a new house.
1. One Simple Cost
When moving by yourself you will have to take care of absolutely everything yourself. This means that you will have a great number of costs coming from every direction. The beauty of working with a reputable logistics & moving company such as Deliveree, is that you can take care of all the costs in one simple, easy transaction. In fact, the price for this service is completely distanced-based, making our service much more affordable than general moving companies. We are completely transparent when it comes to cost so you'll always know exactly where you stand.
2. Save You Time & Energy
Time is the most valuable commodity and that is exactly what Deliveree deals in. We save time for our clients, and deliver / transport on time, every time as well. It's all about time! So, by moving your goods through us you won't have to worry about making any arrangements other than telling us where to pick up and where to deliver; it's as simple as that!
3. Experienced Drivers Who are Familiar with the Area
Due to the revolutionary nature of Deliveree business model, we will pair you with the most appropriate, relevant drivers in the area. This means that you won't have to stress about navigating the roads yourself and finding the most economic route: our experienced drivers will take care of all that on your behalf.
4. Peace of Mind for You and Yours
Again, moving is stressful enough as it is without the added headaches that come with having to arrange your own move and transportation. With Deliveree, we will take the stress out of it, afford you peace of mind and ultimately provide you with the simplest, easiest and most effective solution to your moving requirements. There really is no need to look any further than Deliveree. Whether it is you who is on the move, or if a friend or member of your family is on the lookout; we'd be more than happy to help. Simply download and install our application, follow the simple instructions and voila: You have arrived at your destination.