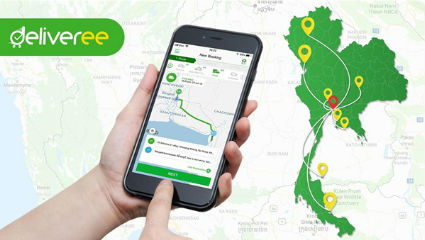 Deliveree, Thailand's leading logistics platform, has added long haul service with full logistics technology from Bangkok to selected up-country provinces at highly affordable fixed price, starting as low as 1,450 Baht for Bangkok to Chonburi route. Deliveree has provided on-demand intra-city delivery service within Bangkok and metropolitan area for over 3 years and helped thousands of businesses save their logistics cost. 
With strong growth of more than 90% of business customer base, including online and ecommerce businesses, SMEs and corporates, over the first half of 2018, Deliveree understands the logistic challenges and needs that comes with goods distribution to destinations outside of Bangkok. The challenges led Deliveree to develop and launch the long-haul service for delivering cargo and goods from Bangkok to major upcountry provinces at a special fixed price that includes loading and unloading help from driver, parking and toll fees and up to 10 destinations. Services are available for route from Bangkok to Ayutthaya, Chonburi, Rayong, Nakhon Ratchasima, Chiang Mai and Lamphun, Tak, Samui Island and Songkhla. 
 "We're the very first on-demand logistics service provider who offers long haul service at fixed price, and uses technology to improve the long-haul trucking logistics. With our advanced technology, we are able to provide a more cost-efficient, reliable and secure logistic service." said Chanisa Rueangkirianya, country director of Deliveree Thailand. "Our innovative long haul offering can help reduce businesses' logistics cost by up to 30%, while allow businesses to book delivery trucks with lead time as short as 2 hours, the level unprecedented in the current long-haul trucking market, to enhance their operations flexibility." 
Apart from the best fixed pricing and speed, Deliveree provides customers with full professional services, from professionally-trained driver partners, real-time GPS tracking of delivery through Deliveree's application, daily customer service support and goods insurance up to 500,000 Baht for Business Program customers and 4,000 Baht for regular customers.