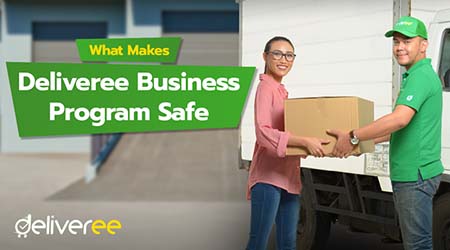 What makes Deliveree Business Program safe and secure for business product deliveries? A lot! But for now, here are three reasons why entrepreneurs should trust Deliveree with their goods.
Track and Trace Feature
Deliveree knows how much business owners value their goods and products. We know that they are your livelihood and we would do anything to protect them. That is why our on-demand delivery app and service is designed with a Track and Trace Feature. The Track and Trace Feature allows Deliveree users to monitor the approximate real-time location of the Deliveree vehicle carrying their business products through the Deliveree mobile app. May the vehicle be in the city or doing up-country delivery, you will be immediately informed if your products have arrived at their destinations.
COD/POD-Skilled Driver Partners
Some entrepreneurs might be thinking twice about enrolling their businesses under the Deliveree Business Program because they are concerned if our driver partners can handle cash on delivery (COD) and proof of delivery (POD) transactions. But they can brush these worries aside because Deliveree driver partners undergo seminars, trainings, and exams to ensure they know how to take care of transactions that are related to business logistics, such as accepting CODs and processing PODs. We can assure business owners that our company makes sure that a driver partner is knowledgeable in COD and POD transactions before he is allowed to make deliveries. Thus, your income from your delivered products through Deliveree are guaranteed safe.
Insurance/Warranty Policy
Sometimes, even if entrepreneurs do their best to protect their products through proper packaging, and even if Deliveree driver partners are careful with the delivery, unexpected unpleasant things could happen during transport. With this in mind, business clients under the Deliveree Business Program are subject to our Insurance/Warranty Policy. The Insurance/Warranty Policy states that Deliveree will be responsible for any of the business client's goods that got damaged, lost, or stolen during a Deliveree transport. This is to assure our clients that we take the responsibility of shipping their products seriously. Our Business Program has a lot more to offer than just safety and security for your products. In line with Deliveree's goal to improve the local logistics system, our delivery application can also help entrepreneurs manage their business deliveries and more.