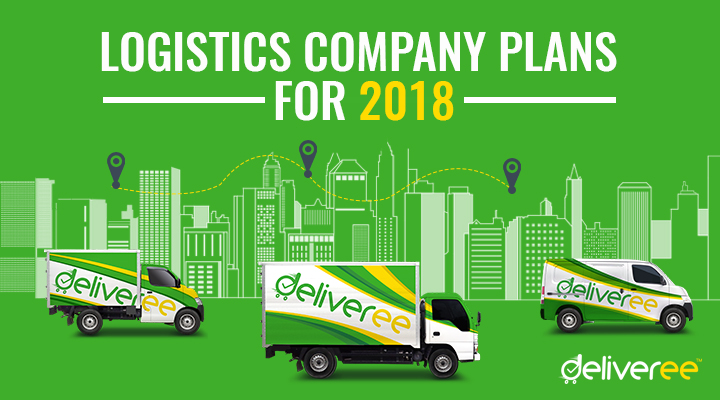 It is time to welcome and celebrate the New Year with a new life and a new start! For 2018, Deliveree logistics company has laid out new plans to improve its app and services to make life easier for our valued customers. We have prepared three new improvements and offers that will help us serve our customers better.
A New Feature
Yes, just when you thought that we already offer too many useful service features, it turns out that we have one more trick up our sleeves. We are planning to launch an additional service feature called Deliveree Guarantee, where we guarantee our customers free online courier booking for the next day if they were not able to get a driver the day before. For example, a customer booked a package delivery today with Deliveree but, unfortunately, could not get an available delivery driver partner within the area that matches his package sending needs and the transaction did not go through. That customer can avail a free booking tomorrow.
We are aware of the inconvenience our customers experience when the Deliveree app cannot find them a nearby delivery driver partner that matches their courier needs. We believe that Deliveree Guarantee is a powerful plan to give satisfaction to our customers who sometimes experience such circumstances and situations. As of press time, we are working with our trusted technical team so we could program the said feature within Deliveree's application to send goods and implement the said service as soon as possible.
A New City
Just like any other progressive local service provider, we are continuing to expand our reach across the country. Currently, our Deliveree location service area covers Jabodetabek, Bandung, and the whole Java Island. As part of our objectives this 2018, we are planning to open another branch in another city in Indonesia. We are planning to operate in areas where there are existing high numbers of delivery operations involving trucks.
We are very adamant in spreading our services nationwide so more and more people will be able to have access to affordable package expedition provided by Deliveree. It is our goal to provide the whole country with a revolutionary, effective, and reliable logistics system that can find a way through truck bans, rush hours, and heavy traffic. We believe that targeting busy cities as the next inclusions in our coverage area is an efficient way to be a leader of logistic transportation in Southeast Asia.
A New Fleet
That's right! We are also adding a new type of truck to our set of fleet options to enhance our service and widen our customer reach. As of now, Deliveree automobiles and trucks for rent include the city cars, vans, pickup trucks, box kecil trucks, engkel trucks, and double engkel trucks. Although the double engkel truck is very big and can accommodate up to 2,000 kg of total package weight, Deliveree is planning to have a bigger type of fleet.
The upcoming fleet option is a very big type of truck that is expected to have a larger capacity than the double engkel truck. This plan is developed to cater to customers who need to transport construction materials like metal bars, hollow blocks, sacks of cement, and lumber. The new truck can also be used for raw food material like fruits and vegetables, as well as frozen food. It could also be used for delivering livestock like goats and chickens.
A new feature, a new city, and a new fleet—these are just a few of Deliveree's efforts to improve the quality of the logistics industry in Indonesia. With high-technology services, affordable prices, and effective delivery automobiles, Deliveree continues to do its revolutionary mission and vision.