Are you one of the many entrepreneurs in Bandung? Bandung is teeming with small to medium entrepreneurs—from home-based online sellers, to event organizers, to catering. And most of them need a systematic logistics system from a reliable logistics company that operates in Bandung like Deliveree.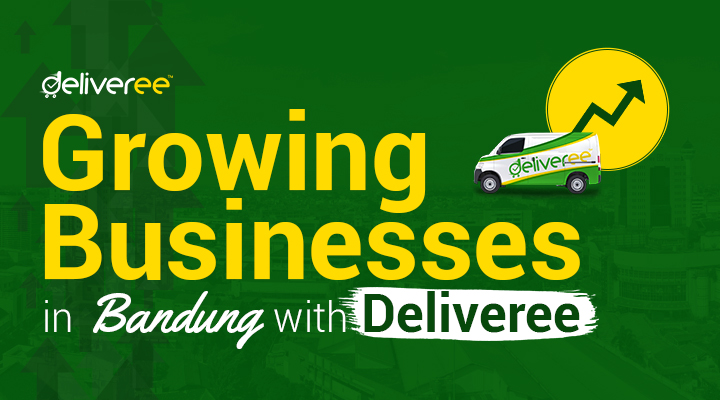 Importance of Logistics in Business
The various business establishments in Bandung usually comprise of restaurants, cafés, catering services, event organizing services, clothing shops, and textile distributors. However, not every enterprise has its own logistics team as managing a logistics system alongside managing a business is hard to handle. Additionally, maintaining delivery vehicles and paying delivery drivers could be costly. At the same time, totally giving up the concept of having a logistics service for a business is risky, as we live in a time where a logistics system has become a business necessity, regardless of the trade's nature.
For example, event organizing services would need vehicles like vans or pickups to help them transport equipment like sound system and lighting system; catering services would need an automobile that can carry and deliver food, tables, and chairs to a venue; and textile distributors need a pickup to distribute their textile product among their shops and business partners.
Transporting items by means of public utility vehicle commute is dangerous for some materials as the rough movement of public utility vehicles might damage the event organizer's electronic equipment internally or scratch and tear the cloths from textile distributors. Transporting items through public transportation also endangers them to rain and/or extreme heat.
The lack of a proper logistics system to transport business cargo in Bandung is really bad for a business. On the other hand, availing delivery automobile for rent or buying your own delivery truck could be very expensive, causing business owners in Bandung to think twice about having their own logistics system.
How Deliveree Can Help
Managing your own logistics system is quite a handful and renting delivery cars is costly, which is why Deliveree came up with its Business Program.
The Business Program is a logistics service feature offered by Deliveree that is specially designed to accommodate the needs of small, medium, and big entrepreneurs. With our Business Program, you can afford a reliable logistics system that you would not have to manage intensely as we will do our share of handling the delivery system, maintaining the car, van, or pickup's running condition, as well as distributing the delivery drivers' payment.
The Business Program comes with a specialized Bandung cargo transportation app that is slightly different from the dashboard of a regular Deliveree customer. With this business version of the Deliveree app, entrepreneurs can monitor the transport history of goods or items, collect cash on delivery and proof of delivery, and settle their Deliveree bills. You can even use the app to transport goods and equipment outside Bandung as long as it is within our service location area. Moreover, Deliveree can also assist businesses during urgent matters, like delivering forgotten food of catering services to the catering venue.
If you are an entrepreneur in Bandung who is in need of an affordable but reliable logistics services to manage the transportation of your goods and materials, Deliveree might be the one for you!