Deliveree has officially launched the 3.2 Ton Double Engkel Box, our biggest truck ever, on our wildly popular mobile and web app.
To celebrate, we have a special promo BOOK 2 GET 2 on Double Engkel Box booking for a limited time. Once per customer. As always, our prices are the best in town. Here are prices for our most popular routes.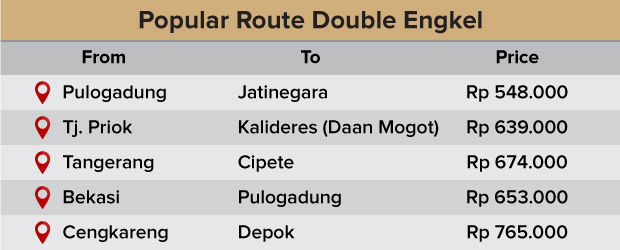 Benefits:
-Book up to 10 destinations or for a full 12 hr day.
-Full service loading, driving, unloading. No hidden fees.
-Pickup Jabodetabek and deliver anywhere Java.
-Book for pickup in 3 hrs or up to 2 weeks in advance.
Promotions Book 2 Get 2:
Book our Double Engkel Truck 2 times, and get cashback value to 2 bookings. Credit will automatically apply to your next booking and credit will expire for 3 months. Have any questions? Reach us at support.id@deliveree.com, or Live Chat our CS Team at 06.00 – 23.00.
Tag: sewa engkel box, truk double engkel, double engkel box jakarta, truk engkel deliveree