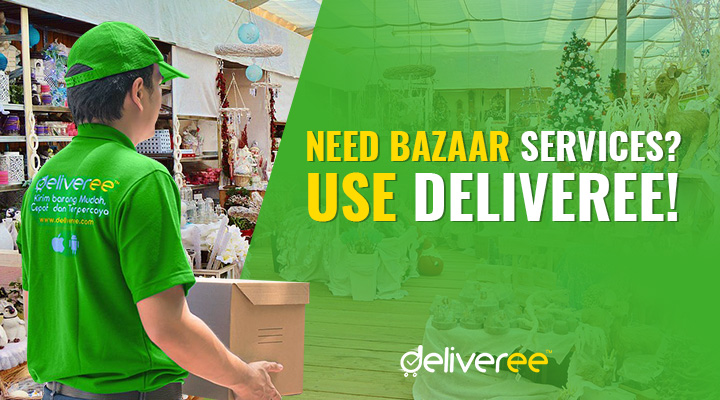 Originally, "bazaar" is a Middle Eastern term for market. As time passed, bazaar became a term for public events where long lines of tent-like stalls sell different kinds of retail goods. There are bazaars that sell general merchandise and various items; and there are bazaar events exclusively for one type of item like food bazaars, clothing bazaars, and more.
In Indonesia, setting up bazaars is a way for small enterprises to promote and sell their items to the public crowd. Since most small enterprises do not have their own delivery vehicles, they can use the Deliveree app to help transport their goods to the bazaar location.
Deliveree for food bazaar
Food bazaars are not unusual in the Indonesian country and in the Indonesian culture itself. As a matter of fact, there is even an occasional Indonesian food bazaar in New York, USA. For fast delivery across Jakarta to keep food fresh upon arrival at the bazaar, entrepreneurs can use Deliveree's same-day delivery features.
Deliveree for clothing bazaar
Indonesia, especially the part of Bandung, is known for its fashion industry. Because of this, clothing bazaars are pretty common. Since beautiful clothing like the shayla and the saree should be kept clean during transport, using Deliveree economy car could help in transporting the clothes.
Deliveree for toy bazaar
Toys come in several shapes and sizes, and transporting them to the bazaar location would require Deliveree's box car for rent in Jakarta. Large toys may fit in the economy car individually, but not if there are too many of them.
Deliveree for plant bazaar
Aside from Indonesia's reputation in the fashion industry, the country is also known for its flower and plant shops. Bazaars for flowers and plants are no surprise. Even in general bazaars, people would find stalls selling plants. With the protection that Deliveree cars and trucks can provide, entrepreneurs can keep their plant merchandise from withering during transport.
For bazaar Jakarta courier needs, you can count on Deliveree's logistics services. If you need to know more details on how we can assist you with your business, feel free to contact our customer service representative.